After the golfing day according to my taste the day before, I didn't get up to speed properly. I hung around in Brora for a while, wrote a bit and then left around noon.
When I got on the bike I still hadn't decided what my goal would be that day. There are plenty of options in this area: Golspie (supervised by the interesting "Mannie" - I reported HERE already, German only) is right next door, the fantastic Dornoch is just a few kilometres further down the road. Next comes Tain. Normally I can't resist the temptations of Dornoch. On top of that it was a wonderful day with a blue sky and just the right wind for links golf. Well, I decided to roll off first and the rest will fall into place. After about half an hour I found myself at the promenade of Golspie and just sat there for three quarters of an hour enjoying the sunshine. This didn't seem to be a really sporty day, but a relaxed one.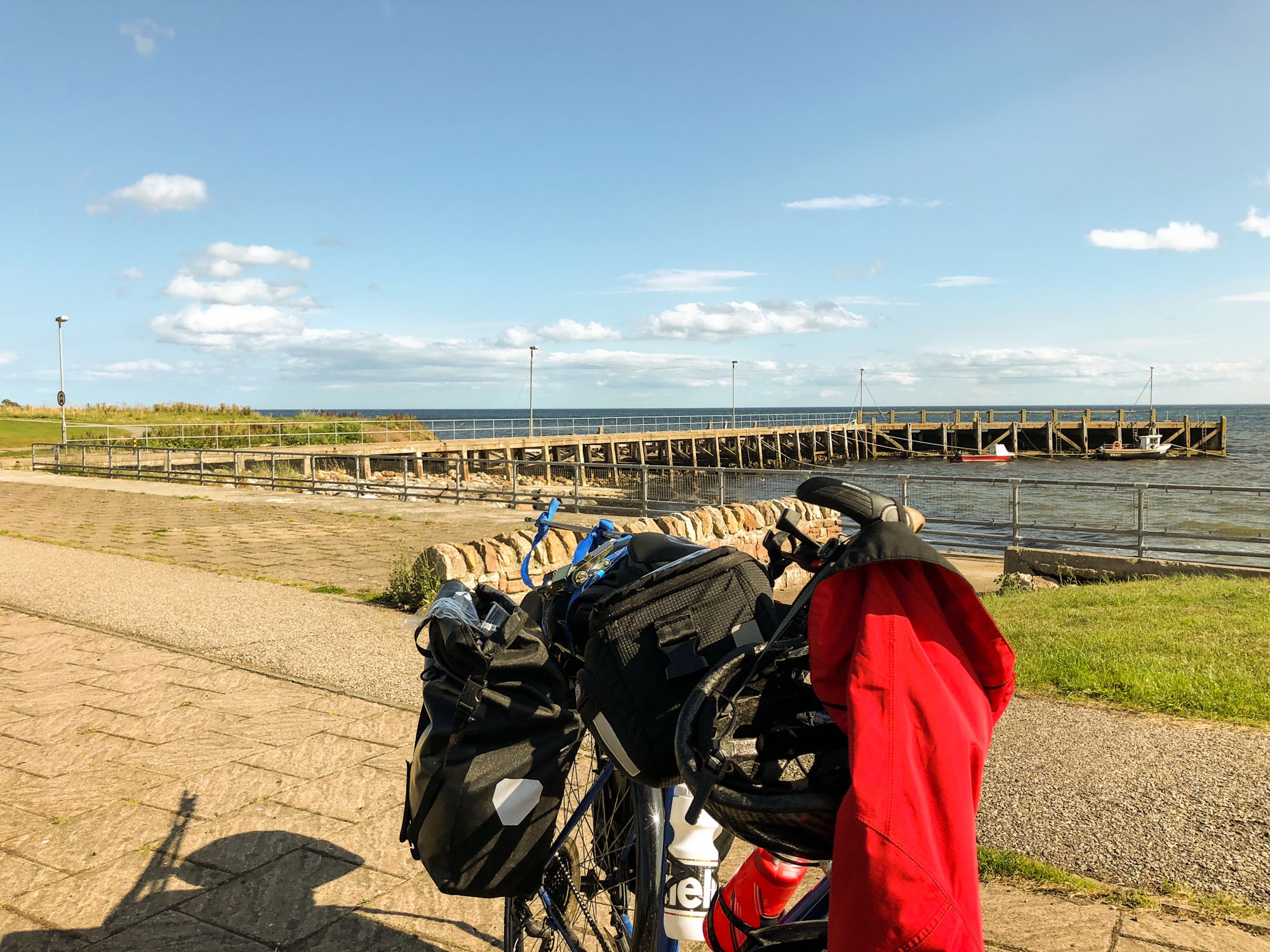 When I rolled towards the turn-off to Dornoch I listened again thoroughly into myself and noticed that today I was simply not in the golfing condition to face Dornoch. This intuition comes as a surprise, because this golf course is something very special (HERE is a review I wrote about Dornoch before).
So I drove a bit further and decided that I would try an overnight stay in Tain today. Tain is the oldest Royal Burgh in Scotland - once again a bit of Wikipedia knowledge, but something you come across everywhere in Tain itself. The city already received this status in the 15th century. In addition and also not to be overlooked, the Glenmorangie distillery characterizes the village, which is located only a few hundred meters before the village entrance directly at the A9. And there is also a golf course, would you have guessed it? In general, it is considered rather secondary in the order of the coastal courses up here, even though the club relies on the support of Old Tom Morris himself, who made plans for the course in the late 19th century. The club's website, however, is frank about the fact that over 100 years later not much of the original idea of Old Tom Morris, the godfather of modern golf - more about that when I come to St. Andrews - has remained. However, my personal opinion is that this course is superior in layout to both Golspie and Fortrose&Rosemarkie. An opinion that would not be shared by every ranking list. Nearly every hole has a special feature, at most two or three holes are just straight ahead with a little gorse on the side, as it doesn't happen too rarely on links.
A short but quite hard confrontation with the wind, which would hit me a few more times in the coming days, brought me over the Dornoch Firth Bridge and directly behind it I found the camping site for this night. There I pitched my tent and again I was overcome by the desire to just sit. I fulfilled my wish and drank another of the strange national sodas Irn Bru. The day had a strange flow. But then suddenly some spirit of action seized me: I changed my clothes in a hurry and drove the 4 km to the golf course. There wasn't much daylight left, but if I was very fast, then the round could still be done.
When I arrived at the club, there really was no one there anymore. Somewhere on the course someone had to hang around, because there was a car in the parking lot, but otherwise it was my area. I would really have to make an effort to make the round of golf in Tain sound exciting. But to be honest, it was quick and breezy, that was all. I played bad golf in a short time and the wind whistled its song. Nevertheless it was a nice evening.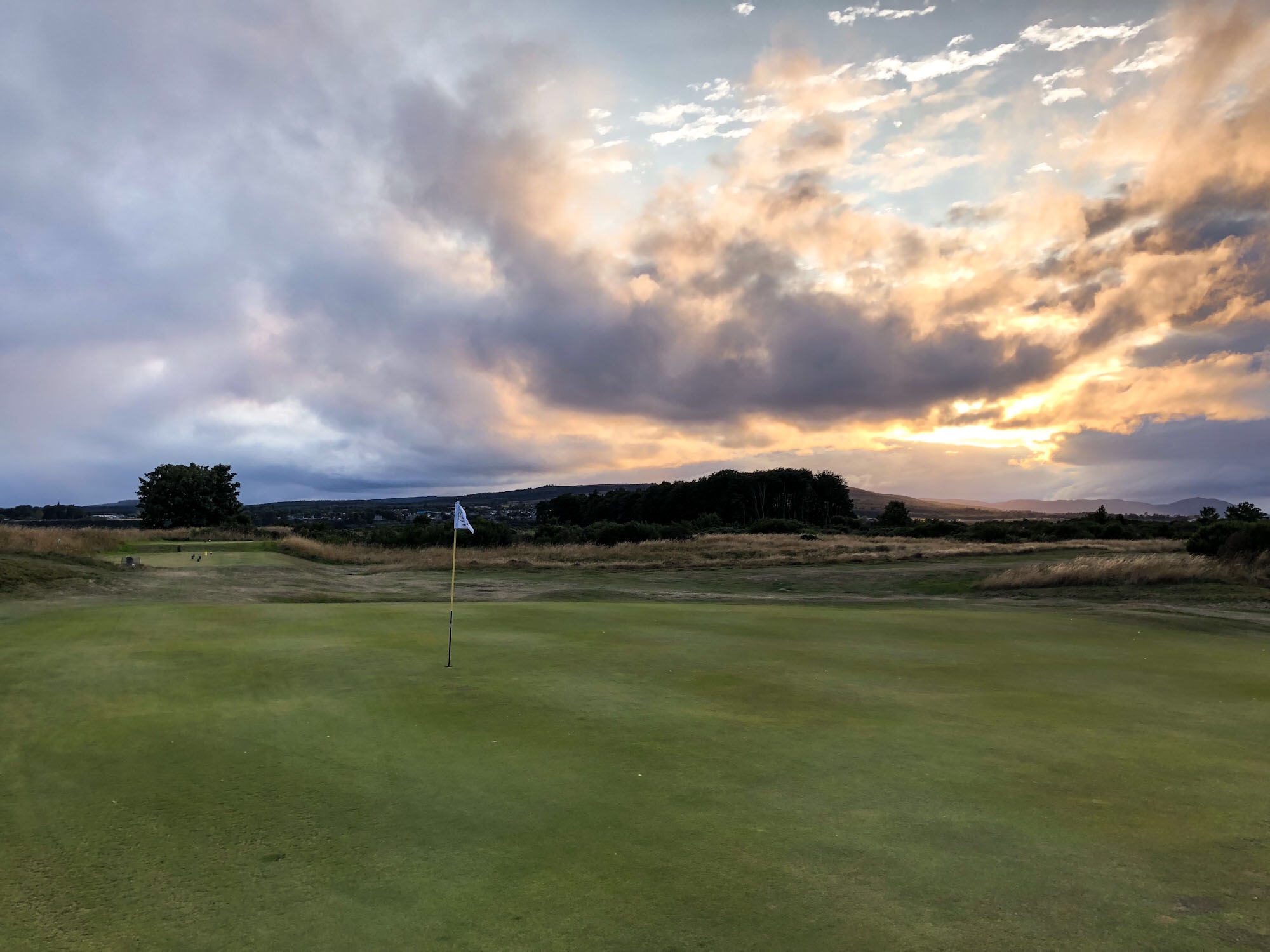 The camping site here was very recommendable for camping travellers at this time of the year. There was a small but sheltered area for tents and the best sanitary facilities on a campsite of my trip. And then there was another rather exciting feature, especially when you become aware of it at half past five in the morning: I had pitched my tent right next to the fence to the right of the square. Railroad tracks were again right next to it. It is a completely unmistakable alarm clock, an infernal noise, when a train, which is here still in full speed in front of the station in Tain, clatters by two meters beside the ear. This sound, which was announced a few seconds earlier by vibrations that got me out of a deep sleep: Unforgettable! The fact that the same thing repeated itself twice in the next two hours was almost a habit against the first appearance - even though it was of course absolutely impossible not to wake up. I was wondering how often you have to experience this so that you don't notice it anymore.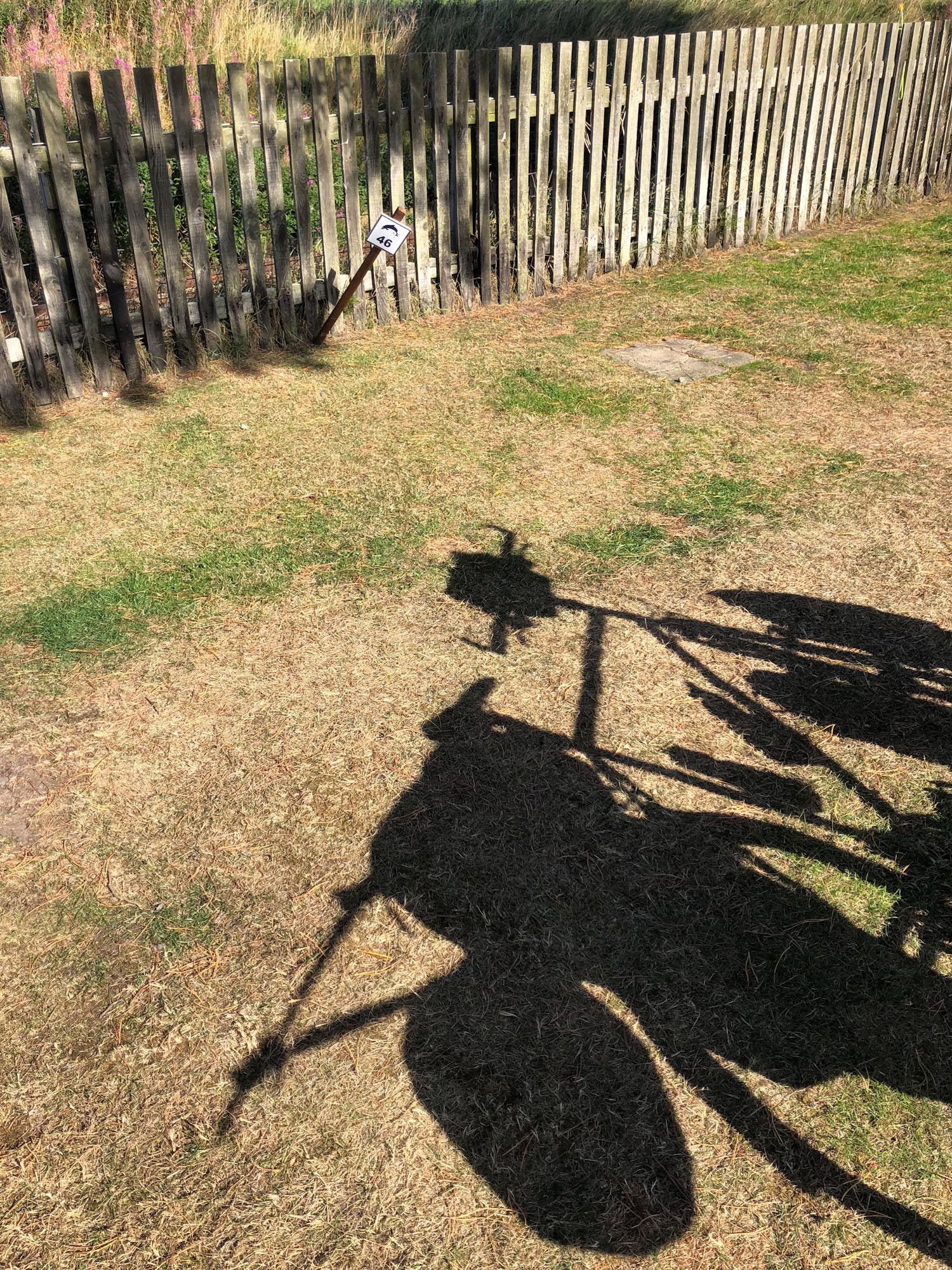 I believe that for this day I will finally fetch Mannie from his mountain, shrink him and hand him over as a trophy.