Logically, the second part of the return journey to Thurso took place today. It started a little earlier than my other days.
The reason for this was that my hostess had to leave the house punctually at 9 a.m., as she needs two more jobs to be able to pay for her B&B, which only started this year. That's a commitment! Since it was a really relaxed stay here: If a reader is in the area and doesn't have accommodation yet, then I can absolutely recommend the Carbata B&B. A nice winter garden for sitting around and reading, thinking or chatting, a good bed, brightly furnished rooms, lively conversation with the hostess, a good breakfast and a stable WLAN. What more does the traveller want? In any case, I really liked it.

And my bike was loaded shortly after 9 and I was on the road. A few minutes later I passed the hotel in Bettyhill. And at the same time I recognized the reason for the utilization of the same. My heart started missing a beat: The nightingale singing of voices from the Ruhr area. Normal people, at last... the owner of the local small shop came up to me with beer from her storage and immediately explained to me that she normally consumed other drinks on Friday morning, which I immediately questioned. We both had our fun.

The rest of the trip to Thurso was largely free of surprises. Until I passed the golf course in Reay. It was completely unknown to me until my outward journey and I was of the erroneous opinion that the course in Wick was the most northern 18-hole course on the mainland. But unfortunately this is a completely wrong assumption because both Reay and Thurso are further north and have 18-hole courses. And both clubs claim on their websites that they have the northernmost one. Maybe the position of the clubhouse and the northernmost extension of the course have been measured. Maybe Reay's emphasis is also on the Links course, because it clearly has these characteristics.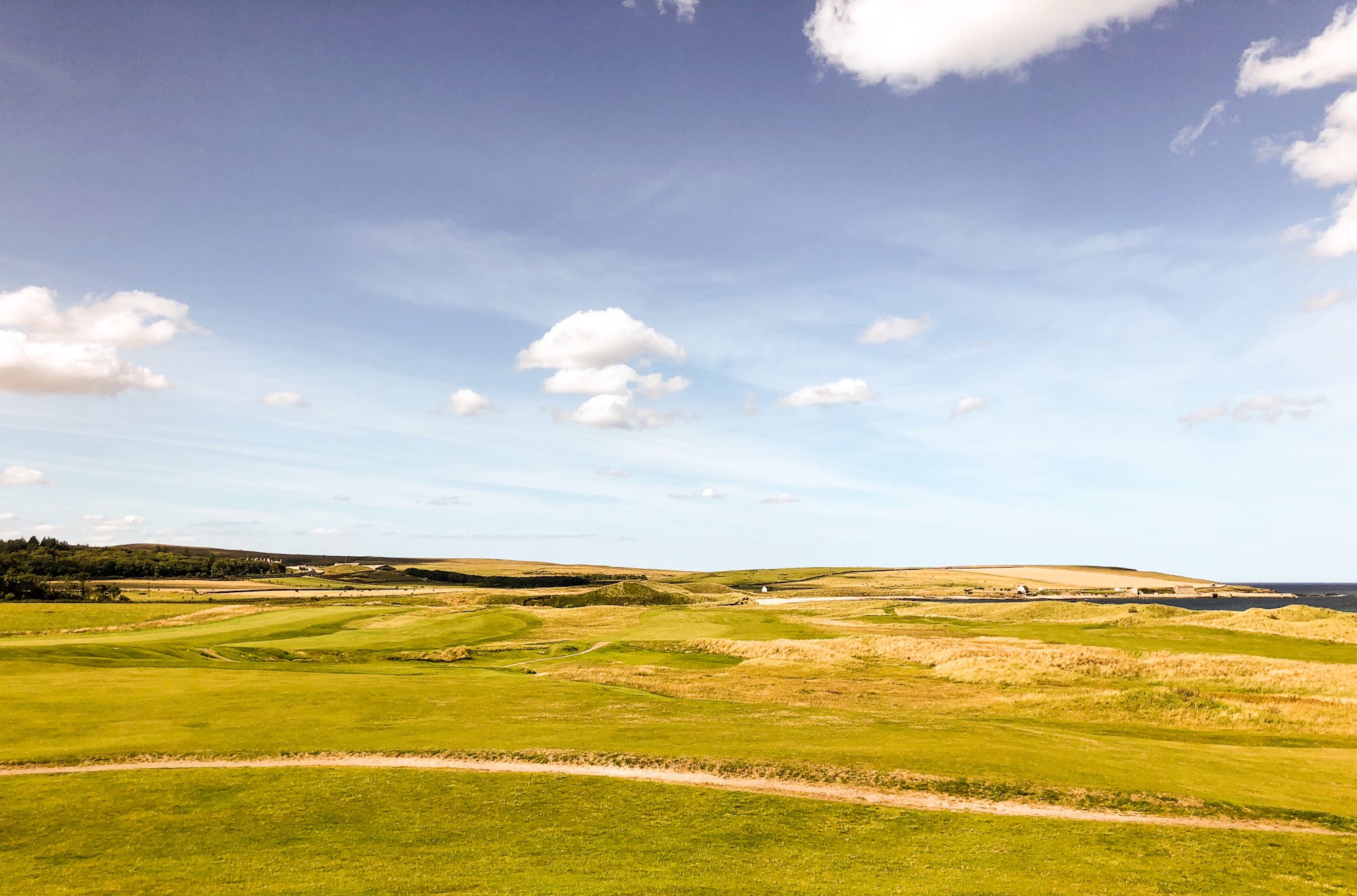 If you look at the two places on Google Maps, then I believe that Thurso is a little further north. But it doesn't really matter, back to my story. As I was rolling up to the Reay Club to drink my favourite Scottish soda in the clubhouse there, I saw that another cyclist was also heading for the facility. Of course we started chatting immediately, because he said that he was not only a cyclist but also a golfer. When I then told him about my travel concept and pointed to my luggage carrier, his enthusiasm was quite great. He immediately took pictures of me, said that his buddies would never believe it otherwise and that the story would immediately end up on Facebook. At this point the request: If cycgo is meanwhile a viral sensation and large parts of the Facebook traffic is based on this story, then please tell me. Maybe by e-mail or fax. I still don't have a Facebook account.
The clubhouse then turned out to be unoccupied, which in view of the completely empty course also seemed to make economic sense. But I really liked the notice that asked club members to get in touch if they were interested in supervising the bar occasionally for a few hours. A briefing would still take place, of course. I used the short break to make a reservation for my bike for the train ride from Thurso to Brora and then slowly rolled on to the station.
There, two hours wanted to be spent until the train arrived, which I did successfully with a small bite. When I arrived back at the station, there was another cyclist: My golf bike companion from a while ago. There was a big hello and the remaining 20 minutes were quickly chatted away with golf anecdotes.
In the train our ways separated, because we found only distant hanging places for our bicycles. After successfully boarding the train I helped a young lady with her luggage. From the German print on her T-shirt I concluded in Sherlock-Holmes-like precision that she probably shares my mother tongue with me. She did and we talked until Brora. She had just finished the last day of a six-month internship here in the north and was just on her way home. During her internship she dealt with one of the more important issues of our time: the plastic waste in our seas. Now she wanted to do her Master's degree after her Bachelor's in Environmental Engineering. She came from near Chemnitz and now went to Dresden to study for her Master's degree. She said that she already had a queasy feeling about it, because while Leipzig, where she had completed her Bachelor's degree, was relatively civilized politically, she would find Dresden difficult. I can only hope that our discussion could perhaps make a real contribution to her political commitment and say: If there are more people like her in Saxony, then everything is not as bad as I currently feel. Then the knowledge about the basic values has not disappeared in Saxony either, and there are also people there who can steer in the right direction from within. That's not really surprising, but sometimes it's just good to be able to experience it by example.
When I arrived in Brora I quickly found the campground and - how wonderful - I was able to pitch the tent right next to the golf course once again. I was only separated from the course and the cattle by a fence, because here, cows and sheep actually graze directly on the golf course. But more about that tomorrow. I gave up my plan to quickly play an evening round and instead sat on a bench on the 12th tee and enjoyed the evening sun by the sea.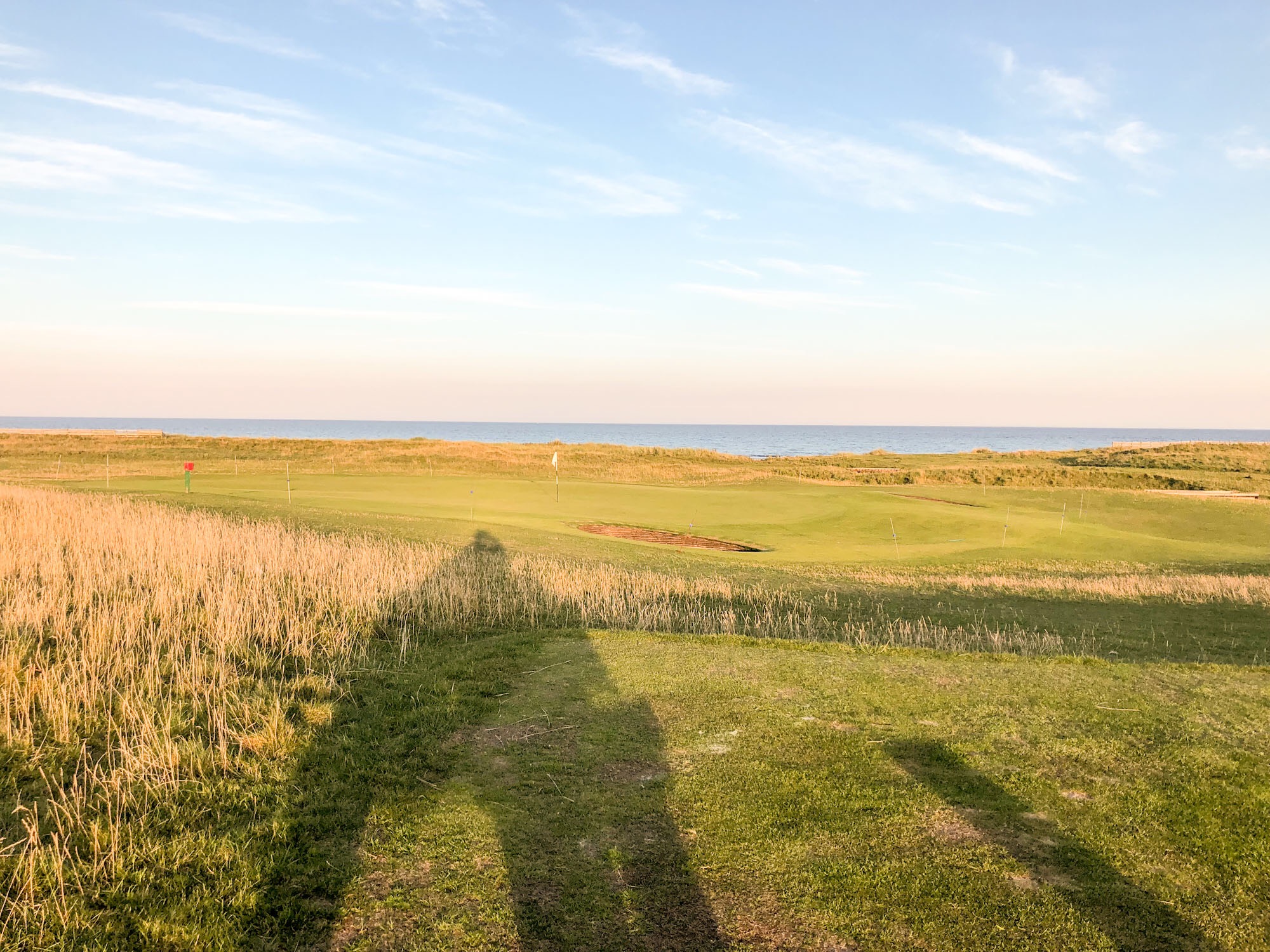 Well, the cycgo rating? In light of current events, I would say that there is a bronze inflammatory letter for punctual and considerate bicycle transport on trains.