A refreshing night followed by a fine breakfast. I already praised the B&B in the last article. One notices that Sarah simply makes everything a little bit better. The coffee is more aromatic, the fruit salad fresher, there is delicious smoked salmon for breakfast. I like it here and find it even more regrettable that I have to find another accommodation for the second evening in Durness. For the first time I will stay in a hostel. An experience as well.
But first, the day is dedicated to the 9-hole layout at the end of the village, right around the corner of the end of the world. Sarah and Neil were telling me that they had recently become members - for 50 pounds in the first year, if I remember correctly. The regular annual fee is 175 pounds. They also reported that the greenkeeper learned his trade in Brora, one of my absolute favorites, and was recently voted Young Greenkeeper of the Year. Seems to be actually true: LINK to the Northern Times. That didn't exactly stop me from looking forward to the day, which turned out to be extremely sunny.
It took me about 10 minutes to get to the course. And already during the approach one could see that the location is special: steep coasts, a beautiful sandy beach and on the other side the hills of the Northwestern Highlands as scenery. The course couldn't be so bad that it wouldn't be worthwhile to play a little here. In view of the weather, I immediately decided on the day ticket option. The clubhouse was just as deserted as the rest of the course, so I just put the green fee in the mailbox and started.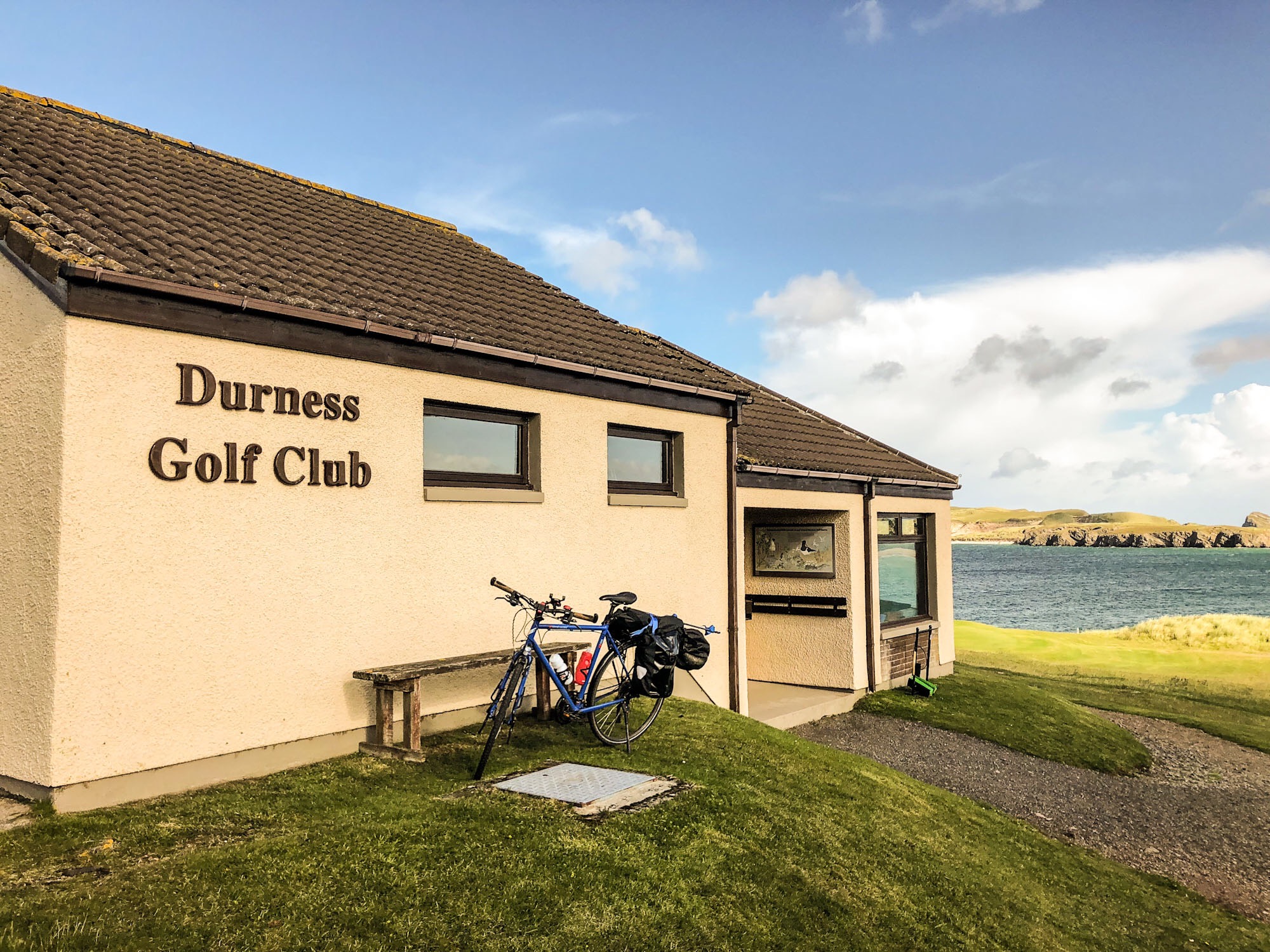 In the first lap I was sometimes a bit confused, because the terrain doesn't always - no, almost never - give you the impression that after the shot you still know where to go next, but from the second lap onwards this problem was not that big, of course. The real challenge of the day and apparently also in general, as different sides confirmed to me, was the wind. When I consider that the day was otherwise remarkable for its beautiful weather, I can imagine that the conditions were quite moderate and that the wind was probably just modest. But to be honest, I didn't experience such a breeze often yet. In some places I had to lean into the wind. You can probably imagine the influence this has on the ball flight. But: If it's breezy, swing it easy :-) As I noticed several times on this trip, I don't care about the score when I just play like that. What a wonderful day of golf where I had the whole course to myself, billionaire's golf.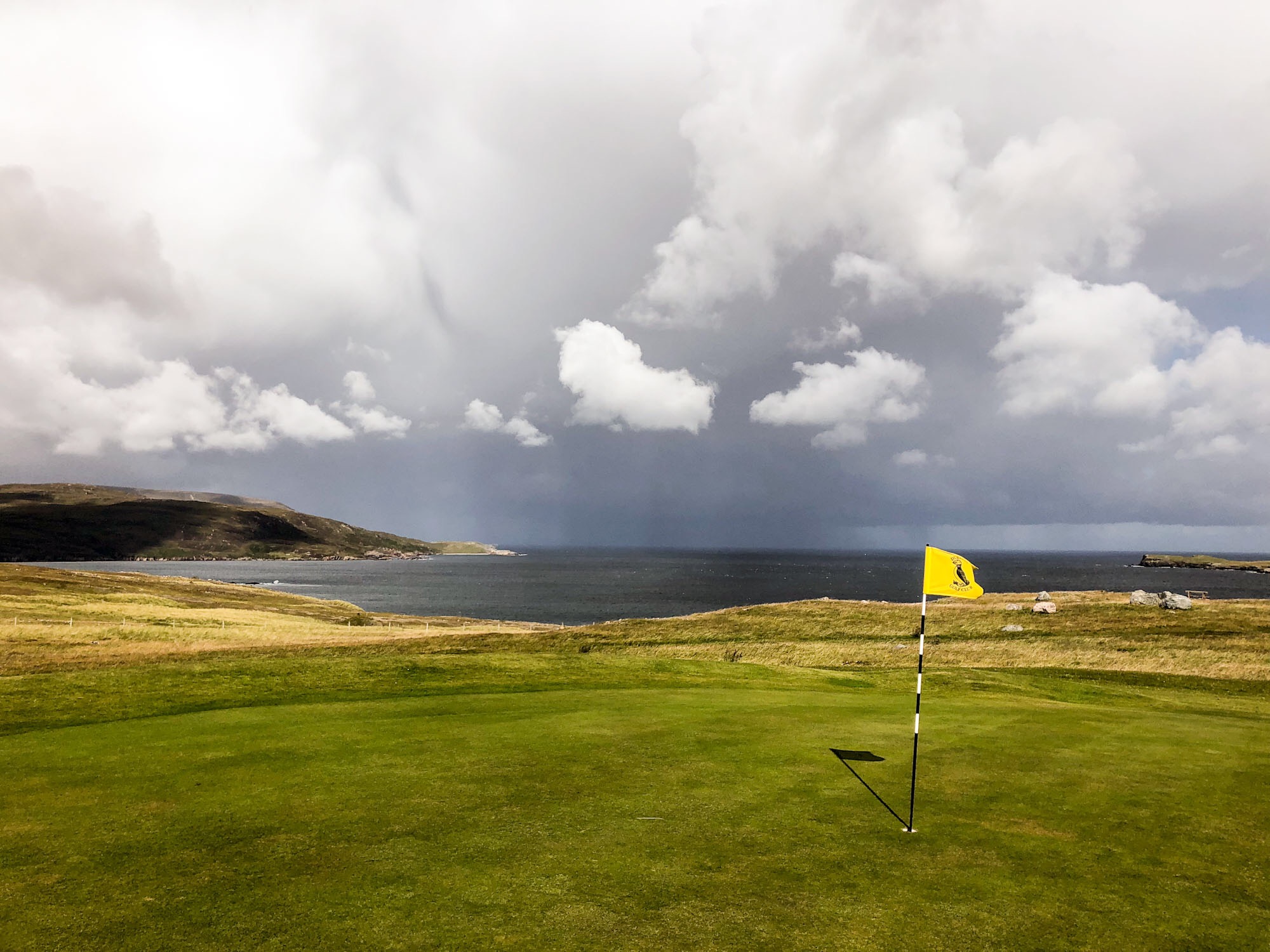 Between rounds two and three I stayed an hour in the still completely lonely clubhouse and waited for a short and heavy rain shower to end. During this time a couple from Germany entered the room and we chatted a bit about their journey. How nice that they told me that they had been in Tain a few days ago. This is a club that stands out in the already friendly region north of Inverness, due to its hospitality. According to their own information, the two were still beginners, but that didn't bother anyone in Tain. They were lent two sets of clubs, explained the course and off they went. They enjoyed themselves exquisitely, they said. At the latest, that was the moment when I decided to stop in Tain again on my way back.
If they happen to be reading this: It really shouldn't sound arrogant when I advised against playing the local course as a beginner, but the site in Durness isn't fun for beginners with that wind. On the other hand: Maybe it is, because it's seldom as unimportant as it is here which result you get together.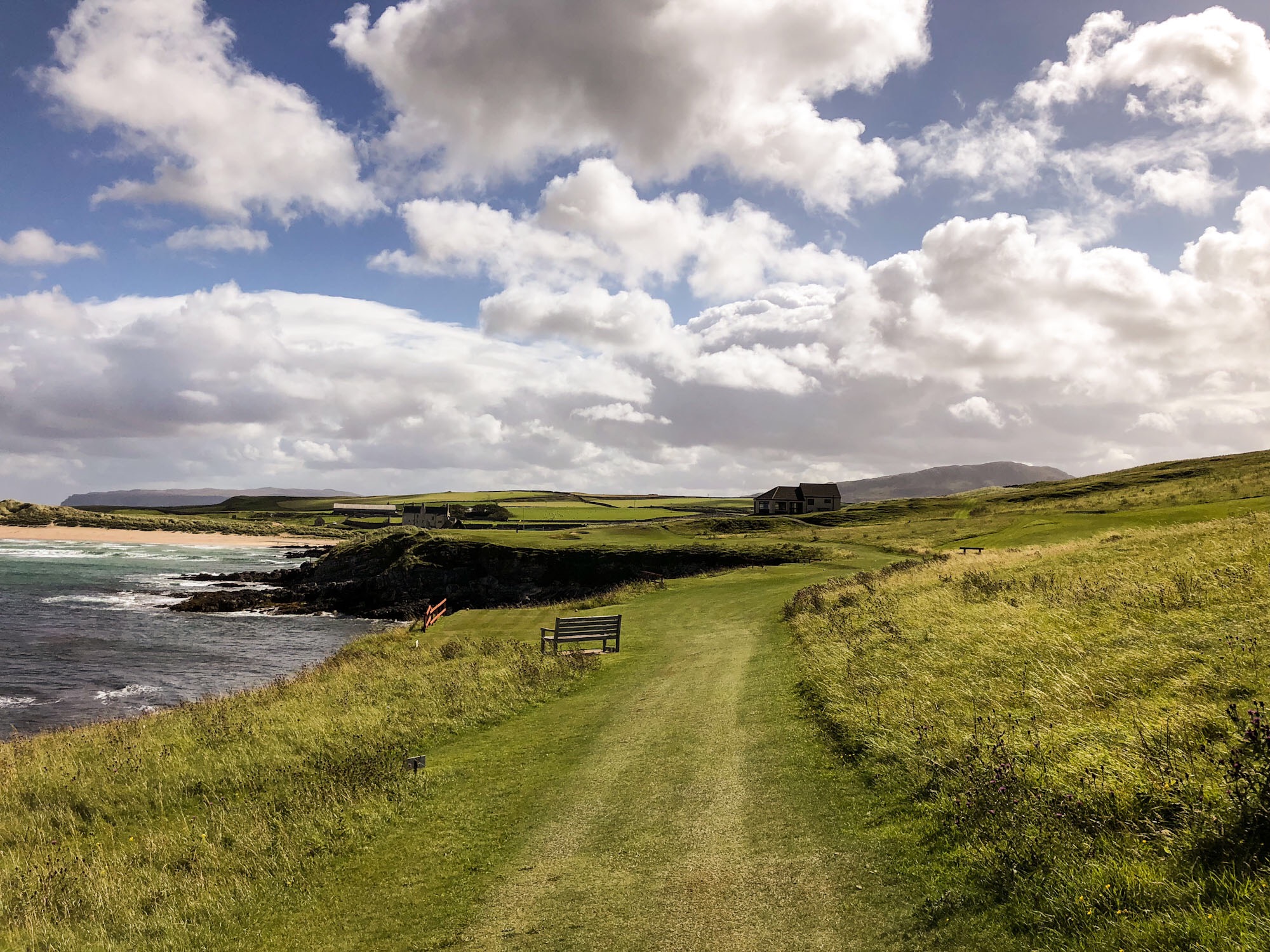 Clear recommendation: First of all, all Scottish holidaymakers should come to this area, because it's simply wildly wonderful here and if you are keen on golf then it doesn't hurt at all to bring your clubs.
In the evening I went to the hostel. Surprisingly Durness has two such establishments. Reliably, I had decided for the wrong one. I chose the old one, the youth hostel. Not that it was basically dramatic, because it was clean and well organized. Nevertheless, for the first overnight stay in a hostel a 12-bed room was a bit much. At first it couldn't have been more relaxed. When I entered the room, there was only one other guest next to me. He turned out to be a German who made a motorcycle tour with his wife. We chatted for a while and when he told me about the renovated old school where they would live it became more and more exciting. I thought that something like this was an interesting approach, because there would be enough space for an adequate studio for my beloved. He found that exciting again and we changed the subject to sculpture. It turned out that although he was a physicist, he had been living out his passion for making sculptures for many years. Next followed the story that he spent the last year with a very exciting installation as a technical head (not artistic, of course, as he emphasized) behind the pendulum work by Gerhard Richter in Münster, which was unveiled a few weeks ago. A project that made a lasting impression on him, he was able to tell about it in a lively and everlasting way. Thanks for that, a lot of fun and a great encounter!
Talking of pendulums, however, it went to the opposite direction when the rest of the guests were obviously coming from a nearby pub, providing an impressive example that old men riding motorcycles in a larger group did not necessarily choose humanistic basic values as a model for their journey. It was a rather restless night, which was not remembered for an enjoyable mixture of smells and sounds.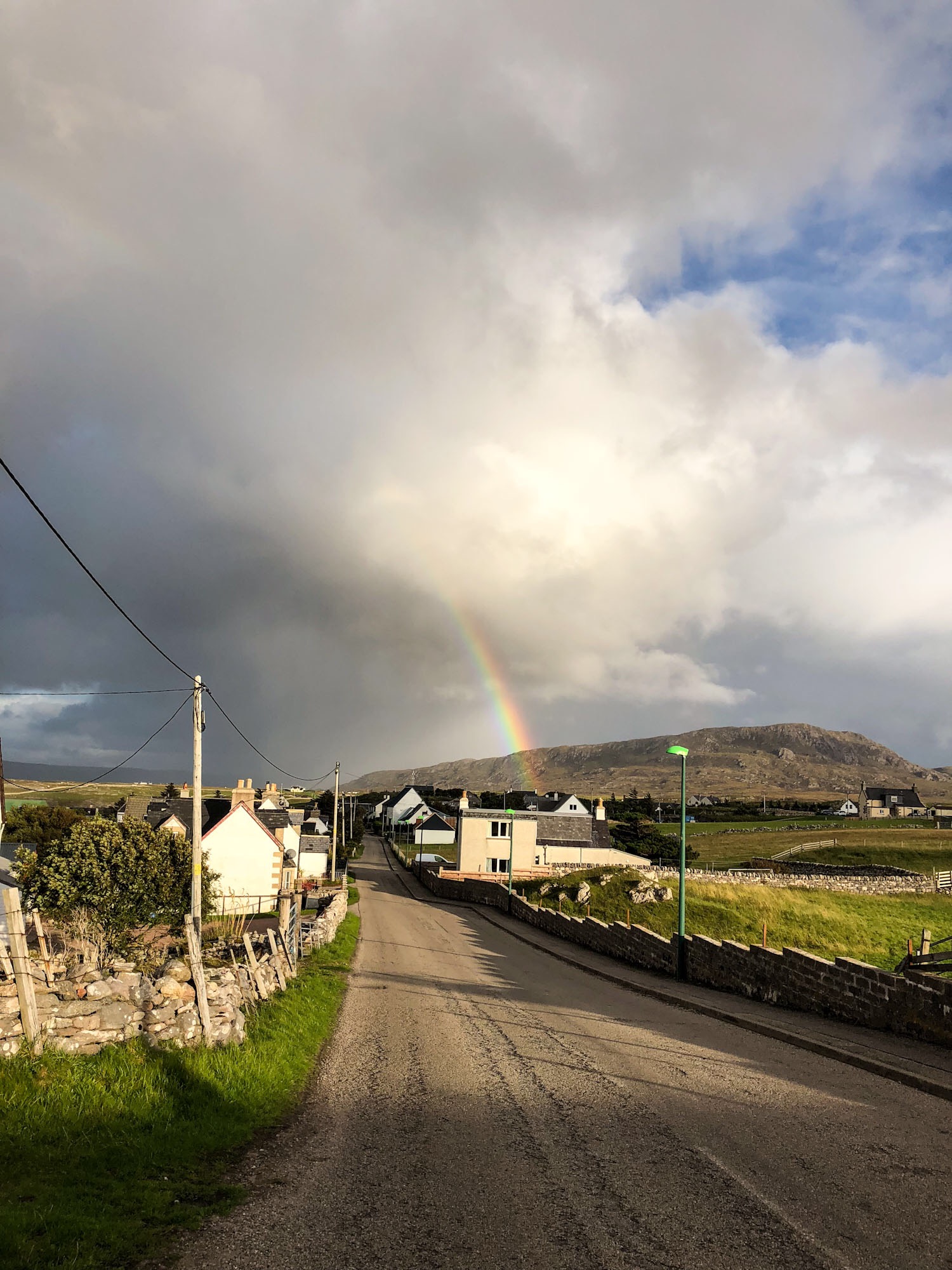 At some point this night also came to an end. And another day with a demanding cycling stage should follow, because the way back was indeed even more exhausting.
This day receives the Umberto Eco 1988 Award in silver.