In case you state something in the title of an article you can'r really ignore it, right? Well, but I tried as hard as I could on this leg of my tour.
Since I had the plan to take the ferry to from Adrossan to Kintyre the following days (today is monday) will be quite relaxed from a cycling point of view. From Stranraer to about Maidens is the rough plan for today. This is only about 60 kilometres but with two pretty steep hills on the way. Due to the app which I use for navigation (and which I will be mad about tomorrow!) one of the climbs looks nearly like an overhang. That has to be just an optical illusion ;-)
Overall, this day started very easy. I had breakfast in the Fig&Olive again then drove to the nearby Tesco to buy water, energy bars, and bananas. After packing all in I started rolling. In the first two hours of riding I approximately spent one hour with sitting by the sea and starring on the ocean. Phantastic! Then came a point in time when I couldn't ignore that I had to climb up this silly hill. Surprisingly, it went quite well. Maybe that was already an effect of the first few days. Or, the hill wasn't as steep as I thought it were. Both options are valid, but I prefer option A. Improvement of the intra-muscular coordination or something like that. I can vaguely remember from my trainer's training a very long time ago that this can happen quite fast. Well, training, improvement, getting stronger, I decided to take a break before rolling down again.
Briefly after the famous - at least for golfers - Ailsa Craig made it's appearance on the left side of the scenic view. That is a volcanic isle which can be seen from a very famous golf course which even has its name from that craig. This is the course I will ignore extensively throughout the day. As I can learn from the article on Wikipedia about Ailsa Craig it is meant to be sold for just 1.5 million pound sterling. Perhaps it is a good idea to crowdfund this and to write on the side which is directly facing the golf course in huge letters: "Democray will survive the Donald". Seems to be a great phantastic best deal!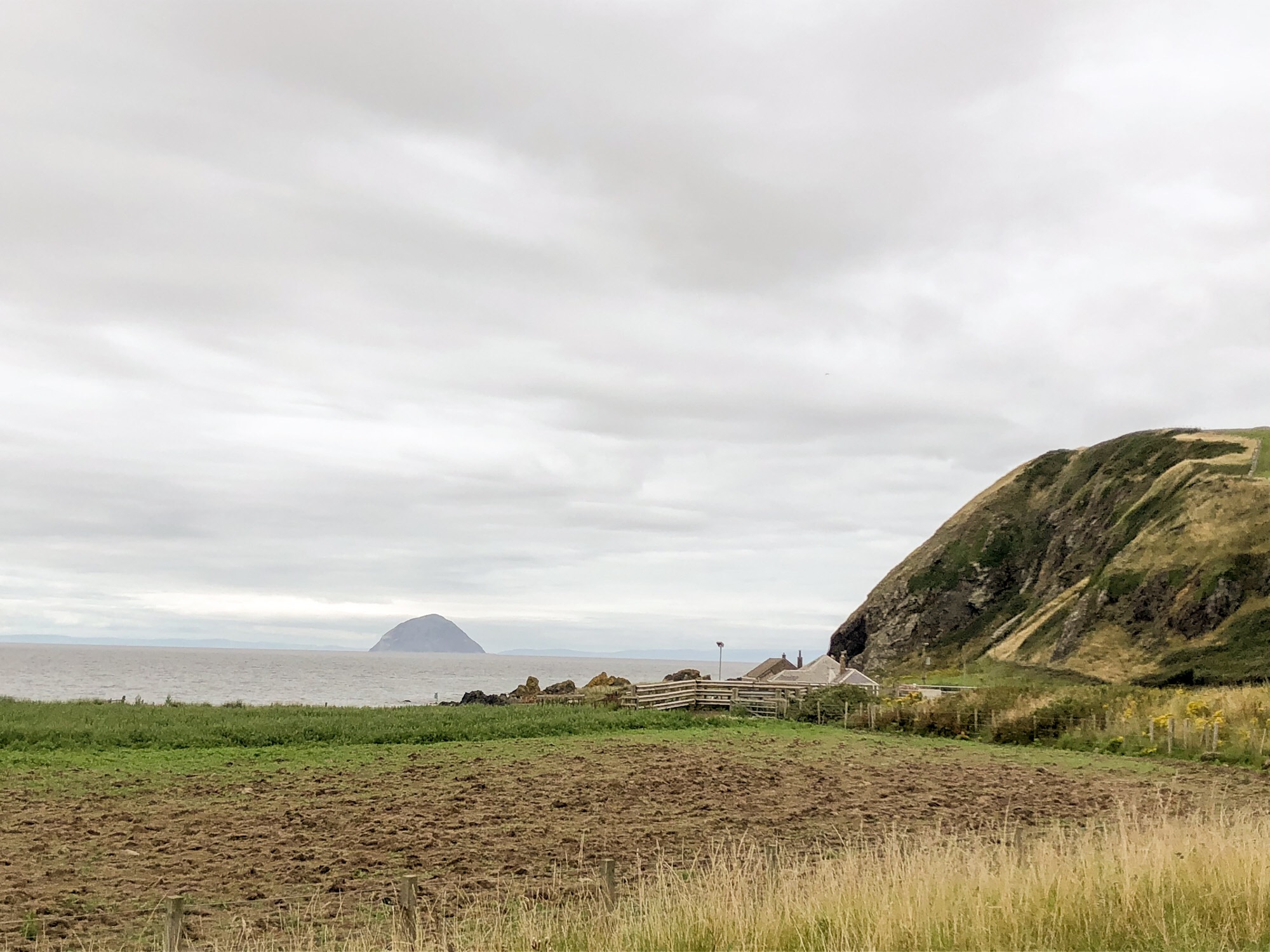 During the ongoing leg I had to do my best to ignore this great course. This was not easy in particular because my route went straight through the estate. But I did not stop and I did not take any pictures. Besides this here which gives you the idea of the other famous landmark of this course.: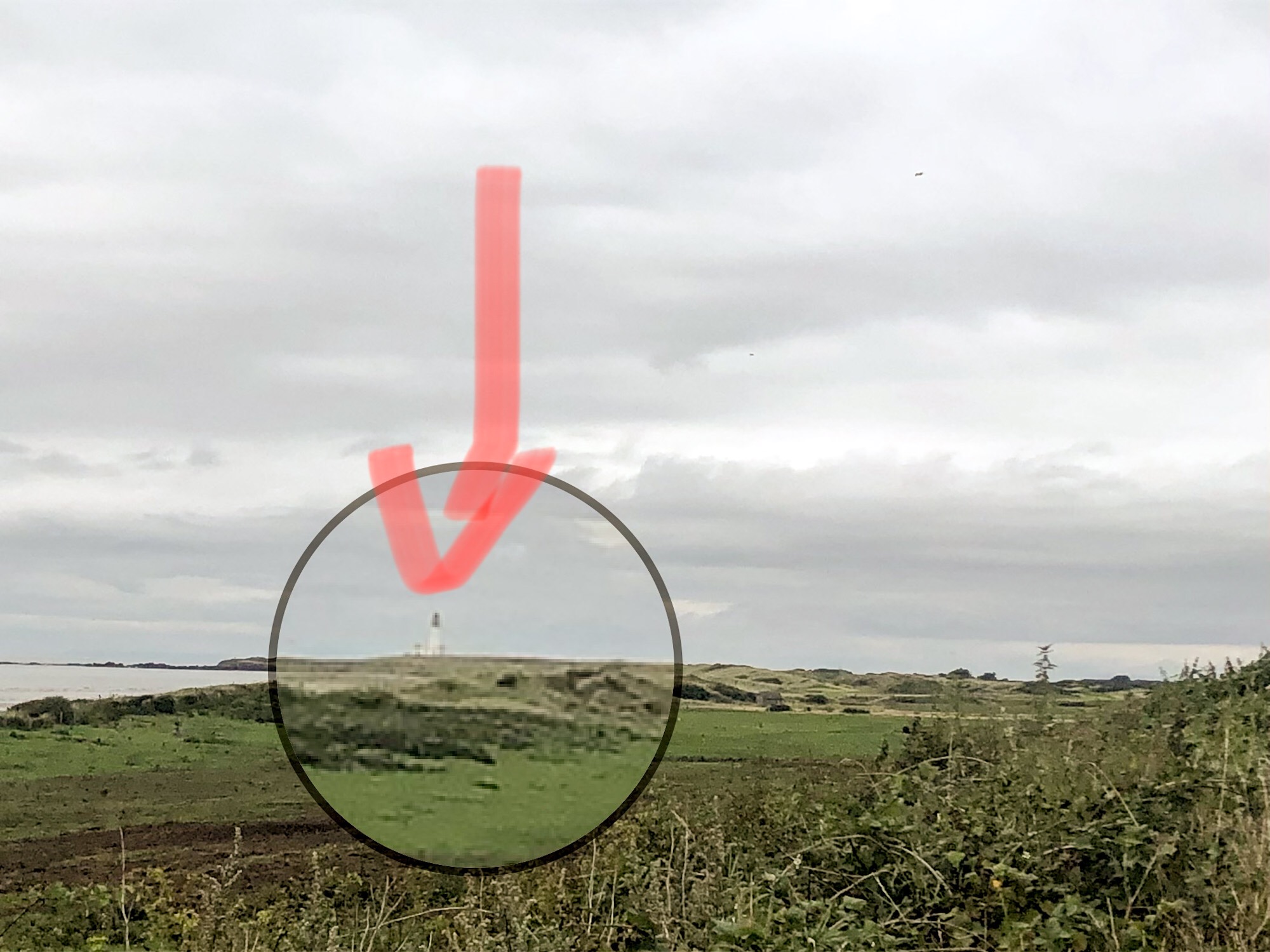 A few kilometres ahead it was only about finding a camping site for the night. Basically, this was not that hard. Only 5 km down the road there was a five star site at Culzean Castle operated by the Camping And Caravaning Club. But this 5 km had some character. And let's assume it is a very upright character indeed. The route was very nice and calm, mostly through the park of the forementioned castle but then it went straight up. The warm shower I phantasized about helped a lot and so I was able to concentrate my power for a last time this day. Then I had the pleasure to deal with the friendliest and most professionell camp site crew I met yet. The senior manager of the site had a Peter O'Toole-esk nonchalance which he underlined by constant whistling (think about the whistling in Lawrence of Arabia in the middle of the desert and add some rain). Building my tent, take a hot shower, prepare some instant noodles, beeing angry about not having some milk for the noodles, read a bit: That was this day.
This day is rated 7 of 8 Lebowski, due to it's straight laziness.
PS: Whoever wants to understand how great this ignored course could be should have a look on the following video. Attention: For a non-golfer this highlight of modern golfing history is still very boring.…
Duel in the sun: