The major golf courses in Scotland often have a starter whose job it is to get the golfers teeing off on the first tee in order and well-informed on the round. It is also evident that St Andrews is something special from the fact that each of the many courses there has its own starter.
The first tee of the New Course is about 500 meters away from the Old Course, the Jubilee Course is less than 100 meters away. The older gentleman in his starter house does what he probably has done thousands of times before: He welcomes another golfer. "Are you here for the first time? Welcome back! The distances are in yards, unfortunately not in meters, I'm sorry. The tea is clear, you can tee off whenever you want. What is your handicap? If you feel like it, you are welcome to tee off from white. Enjoy the round! He is professional enough that it doesn't sound bored at all and in fact there is a feeling that this is a special place. Everything seems to be more sorted, more experienced, more orchestrated than the many other places I've played before.
After I've screwed my equipment together, which has become a routine I've become quite fond of, I'm ready to go. I look at a wide, flat terrain, which is marked by some gorse bushes at the edge and various bunkers. The demands that the first hole places on the player are relatively clear and the game begins with a pleasantly relaxed tee shot. The grass here seems to be greener, even if this is only meant figuratively, because the tendency to over-watered fairways in summer is not present in Scotland. But I am touched by the local golf spirit and all my strokes feel special. On each of the first holes I make minor or major mistakes, all of which - partly unfortunate, partly on the contrary extremely happy - lead to bogeys. At some point I stood at a location where I realized that from that point I could probably walk 20 minutes in any direction and I was still on a golf course. How much everything here is focused on the sport is impressive.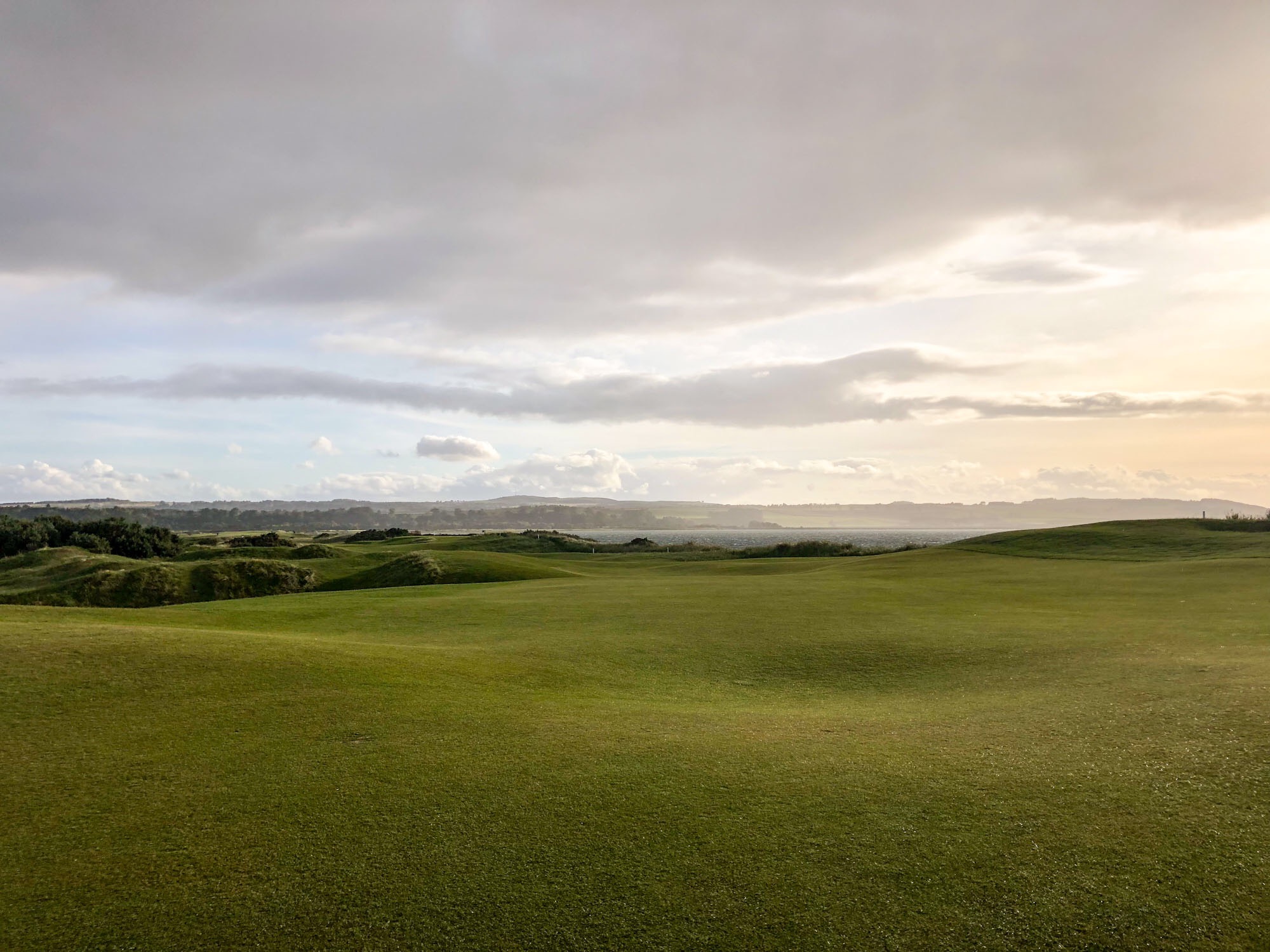 As I was about to bring my ball into play at the eighth hole, a golf cart of the local marshal approaches from the side. I can see him going through his list of players who are currently on the course and apparently assigning me to it. He doesn't even bother to ask me in any way about my tee time in order to find out whether I would have paid. Instead, he immediately immerses himself in the conversation. He raves to me about this place, how incredible he himself finds it to be here, at the "Home of Golf". We talk briefly about Duesseldorf, where he was many years ago as a soccer player in the Rhine stadium. The exchange about Altbier was obligatory ("Schumacher, great beer!"). Then the conversation found its way back to the topic of golf and to a niche in which I often find myself: pace of play. He said that he would do it the same way I would and enjoy the links in the late afternoon and expressed his amazement at those locals who complained to him that it was so crowded during the day on the courses of St. Andrews. "So it may be here for centuries and so it would be in centuries, one may play in the morning at seven or in the evening," was his opinion. Finally, he gave me detailed information about the playing strategy for the upcoming fairway, which was not easy to understand from the tee, and drove away happily waving. I was so happy about this encounter that I turned the eighth lane into an indescribable and, above all, unworthy golfing disaster, but at least I didn't get dirty while playing.
The forecast was relatively heavy rain for the early evening, but it only touched the course for a short time and then created a wonderful atmosphere: The smell, the light and the colours were exactly what they needed to be to make a warm late summer evening on a golf course a pleasure. But in order not to crawl too far out of my golf hole, which I had dropped into in the last weeks, the ultimate failure hit me out of the blue: I had to do a short shot of about 50 meters length. This was one of the tasks that is normally not limiting my game, but which also ensures that worse phases are ended again and again. I so often enjoy an hour hitting one ball after the other from a similar distance on a training course in the direction of a flag. I can often completely forget myself and my environment. At this place, at this time, in this weather, I was really looking forward to the upcoming shot, when I went into the address position over the ball. I made the appropriate short movement, let the club head start in the direction of the ball and saw in complete disbelief how the ball started fractions of a second later at an angle of a little less than 90 degrees in the direction of a thorny bush and disappeared deep into it. A socket is the most demoralizing failure you can make on a golf course. For a putt that you push past the hole from 30 cm, you can without problems lead inattention into the field, a ball that is hit fat and only covers a quarter of its intended length can be compensated with a good following shot and a topped tee shot has been seen too often in the course of your golfing life and probably done too often to impress you. But hitting the ball with the spot that connects the shaft with the head instead of the clubface is almost impossible to reproduce, but it almost always causes fatal flight curves that make it easier for the player not only to get rid of a ball, but also of all his self-confidence. And there it was again: The feeling that - despite all the fun I had here - I was somehow glad that this round was almost over. Two holes were still to play, both I played reasonably well, but still every shot felt like I was playing it for the first time. And actually that's exactly what golf is all about: no matter how many shots you've made, the one in front of you will never be made that way again and has never been made that way before. Sometimes you forget that. Maybe because you're too used to thinking in categories (115 meters to the flag, light wind from the right: "I know, I can, I've done it many times before") and over that you misjudge the originality of the moment. I should write "I" instead of "man", because what do I know about what others think, but I have the feeling that classification and ranking is an understandable, but often very obstructive approach to solving problems that are not only my own, but those of most people addicted to golf.
After the round I sat next to the first tee at my bike for a while after I had stowed my things away again. What a beautiful day.
That night, I slept very quietly and when I woke up the next morning, the other two tents had already been dismantled and could no longer be seen together with their inhabitants. Today I finally wanted to get a better impression of the rest of the town of St. Andrews, which is not only important for golf. It is assumed that the relics of the apostle Andreas were brought here in the 8th century and in the pre-Reformation period St. Andrews was a bishop's seat, had an important castle which changed hands several times over the centuries and a very important cathedral. Both buildings have been ruins for a long time, but their importance can still be felt. The importance for Scotland becomes clear when you look at the flag: On a blue ground there is a white St. Andrew's cross. And since we are already at mortal remains: around the ruined cathedral there is the cemetery of the city where you can find the probably most important grave of golf. If you want to be moved a little, I recommend the book Tommy's Honor by Kevin Cook. In this book the tragic story of Old Tom Morris and his son Young Tommy is told and both are buried here.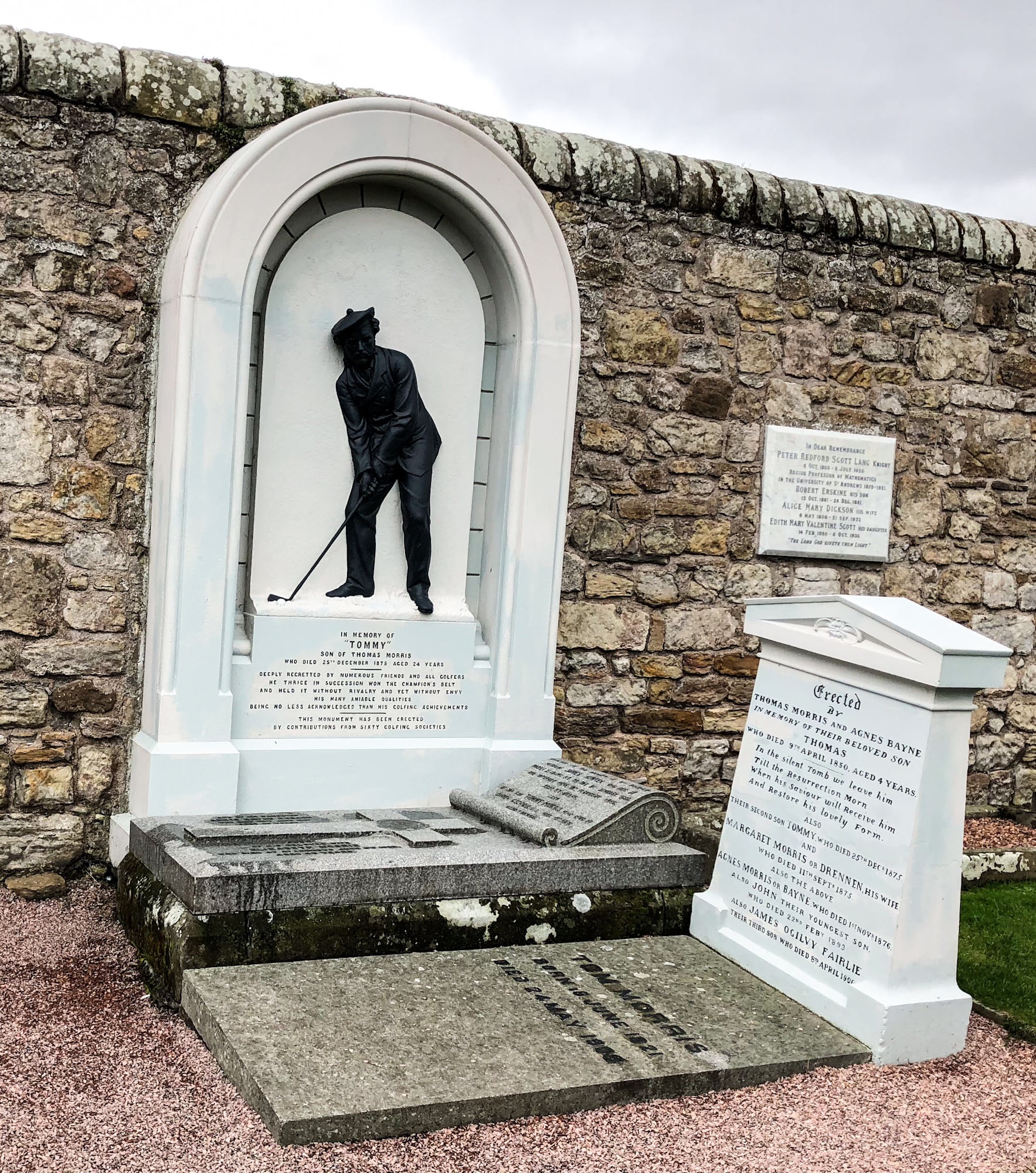 I had actually planned two days in St. Andrews to play another course here. Beside the Old, the New Course and the Jubilee already mentioned there is also the Eden Course. All these courses would be sensations in Germany just because of their age; even the Eden course was built in 1914 by Harry Colt. Furthermore there is the Strathtyrum, the Balgove and as the youngest offspring of the family the Castle Course. The last three (as well as the extension of the Jubilee) are clearly younger, the latter even from 2008. The rush on this place is simply so big that the multitude of courses seems to pay off here. But I was not in the mood to compete with another course. So I spent more or less the whole day drinking coffee and eating cake in changing cafés and wrote about this blog. But I had apparently evoked something evil with it, only a few hours later I found myself in limbo. I just remembered the great stand-up show by Rowan Atkinson, which should also be seen by the one who doesn't find Mr. Bean so incredibly funny:
In addition to fish & chips, Indian food is a permanent hot seller in Great Britain. As is well known, this is partly to be understood literally. I found a surprisingly well furnished Indian restaurant. Just as the short game in golf is not necessarily one of my weaknesses, I usually have few problems when it comes to spicy food. It is also not uncommon that in an Indian restaurant one is especially pointed out to the degree of spiciness of a dish. And just like the 50-metre pitch I just described, I was rather filled with anticipation when I ordered a vegetarian Vindaloo and the waiter pointed out to me that it would be a rather spicy dish. What an ignorant overconfidence! In the next 24 hours I was almost filled with warmth in various parts of my body. But it was most clearly felt when I took the meal. My lips and my entire mouth burned and the water brought of course only few moments of relief. I sweated through my cloth napkin in a grotesque attempt not to become the laughing stock of those sitting around. But how many hills had I conquered in the last weeks, when a simple meal wanted to bring me to my knees? Yes, it did and could. Stupid pride, stupid! Also the mango lassi I whimpered for brought healing only for a very short time and only in the mouth area. To match the Indian episode, here is another excerpt from the Rowan Atkinson show from above:
After the meal I looked for a little salvation in a small digestion trip to the Old Course. Apart from a nice photo with my bicycle in front of a famous scenery I found nothing there.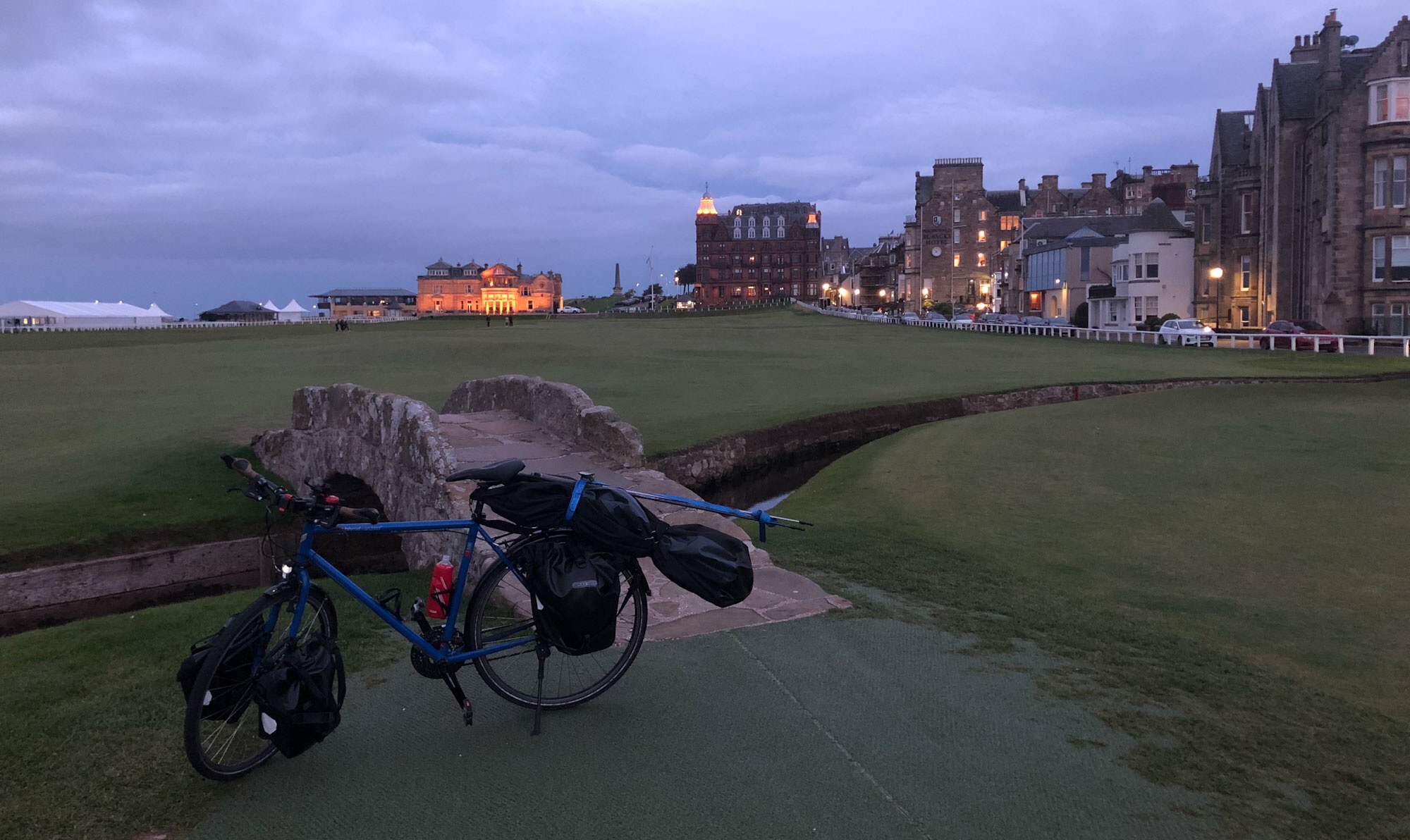 A night followed, in which the meanwhile lower temperatures of the early autumn should not be a problem at all. But I didn't find much sleep.
The cycgo award for today is a bright red Carolina Reaper at the hosel.